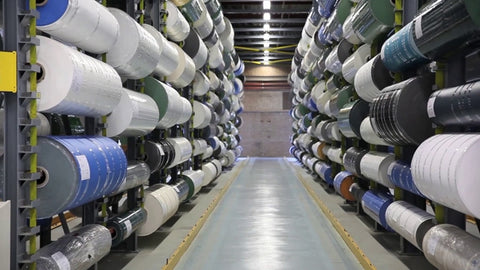 Virtually Any Belt Type
We sell ALL kinds of conveyor belting, Rubber, PVC, Urethane, Plastic Modular, Wire Belting, Leather, Cleated, endless, you name it, we can get it and we can get it cut and fabricated to your exact specifications!
Call us @ (951) 764-3678 or email : himarksales@gmail.com
Our fabrications include rubber, Nitrile, Butyl and PVC cleats; 2 part urethane cleats: hot vulcanized endless splicing; lacing with mechanical fasteners; hidden or recessed lacing; longitudinal splicing to ANY width; flanges of SBR, Nitrile, PVC or high-heat Butyl rubber; V-Guides; molded/capped edge finishes; hole punching and perforations; cleat notching; belt grooving and precision belt grinding; molded urethane parts and urethane covered belts; urethane segmented V-Guides & MORE!
Just give us a call @ (951) 764-3678 for your custom quote!
Not sure what you need? You can search through hundreds of Belt Specs by thickness, color, plies, application or keywords @ http://www.mulhernbelting.com/specifications/
Find your belt spec and send us your requirements!
---
We Also Recommend