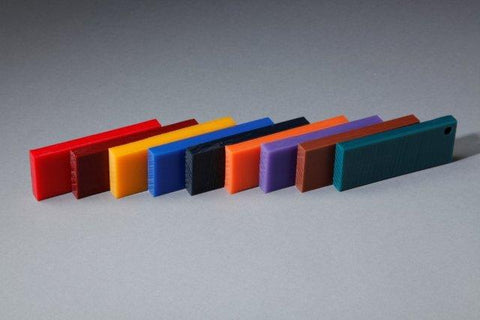 Virgin UHMW sheet
Call for current price and availability (951) 764-3678
or send an email to himarksales@gmail.com

FULL SHEETS ONLY.
  We offer 4' x 10' UHMW-PE plastic sheets ranging from 1/4" to 4" thick in a wide array of colors and formulations, with special additives available. We also offer 80" x 160" and 80" x 240" UHMW PE sheets, one of the largest sheets available in the U.S. 
Duro-Glide® Colored Virgin UHMW sheet is our standard grade of UHMW-PE sheet. It has a molecular weight of 3-5 Million.  It contains no reprocessed materials or additives. Unlike others that only offer this UHMW sheet in Natural, our Virgin UHMW PE sheet is available in a wide variety of colors. Its many desirable properties make it extremely versatile. It's Made in America, pressed right here in Florida, USA.  
Our Duro-Glide® Colored Virgin UHMW PE sheet offers great abrasion resistance, high impact strength and excellent sliding properties, making it ideal for use in machine construction, plant construction and conveyor technology. It's also ideal for use for fendering applications in ports, as a lining for highly exposed areas and as a material for the sports and skiing industry.
Duro-Glide® Colored Virgin UHMW PE sheet is resistant to low temperatures and most chemicals.  All grades of our Colored Virgin UHMW sheet are FDA compliant (except 16 Pink).  
Duro-Glide® Colored Virgin UHMW-PE Sheet is available in the following colors:
---
We Also Recommend