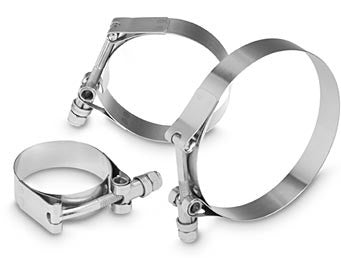 Clamps, T- Bolt
Stainless Steel Band w/ Carbon Steel Bolt.
A strong positive method of assembling hose, ducting, tubing, and component parts. They are used for high torque applications where ordinary hose clamps fail. They provide a 360 degree sealing surface by using a shoe or formed bridge. Nuts are self-locking, vibration resistant with nylon inserts.
All clamps open 3/32" above and tighten 7/32" smaller than nominal I.D. for a total range of 5/16".
Clamp measurements are 3/4" wide ~ 0.025" thick.
---
We Also Recommend