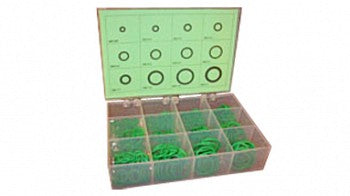 Automotive A/C O-Ring Kit
Call for current price and availability (951) 764-3678
or send an email to himarksales@gmail.com


Years ago, for environmental reasons, the U.S. government joined a global consortium mandating the replacement of all CFC type refrigerants in favor of those with lower ozone depleting properties. This new requirement was the basis for the introduction of the R134a refrigerant into the automotive industry. 
We offer this 200 piece assortment of O-Rings in the 12 most popular automotive A/C sizes. The material used to produce this kit is a green, highly saturated nitrile or HNBR.  HNBR offers excellent resistance to R134a refrigerant and elevated operating temperatures, as well as resistance to the synthetic oils used as lubrication within the compressor.  
Material is 70 durometer green HNBR (highly saturated nitrile). 
AS568 sizes and quantities include: 
20 each:  008, 010, 011, 012, 013, 014 
15 each:  015, 017, 111, 116 
10 each:  118, 211